Cold Hands, Warm Hearts Swap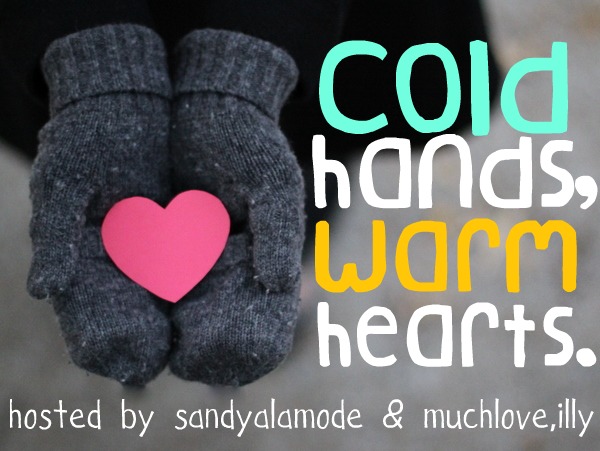 A couple months back, I met Sandy, a superstar blogger and etsy shop owner, through several mutual friends, and she even helped out as our assistant/second shooter at Jenny and Kevin's Aliso Viejo wedding. I've been looped into Sandy's blog world since, both as a sponsor and as a loyal follower. So when she and Ilene hosted this "cold hands, warm hearts" swap, I happily jumped in! For the swap, participants were randomly paired with each other, and we exchanged gifts that each included a pair of gloves and any other gifts that fell into the budget. At the end of it all, you end up with some lovely mittens, wonderful gifts, and new friends!
I was excited to be paired with Melissa, who runs a personal blog over at Nashville's Melrose. I love her 101 things in 1001 days list (I'm kind of a sucker for lists), and the fact that she actually keeps crossing things off! Plus, we share a fierce love of red velvet cakes. Here's what she gifted me!
Melissa really packed a lot into a little space! I love the fingerless gloves– perfect for the not-quite-freezing San Francisco chill. And I'd been wanting a cowl neck scarves for a while too! And of course, the chunky necklace is just so cute. Sadly, no one is around to photograph me with all of this on, so I can't show you all of this in action, but I love it and have been wearing all of it!
I packaged up my gift to her as follows:
But you'll have to hop over to her blog to see what I got her!
Visit Much Love, Illy's blog to link up to other Cold Hands, Warm Hearts blogs.